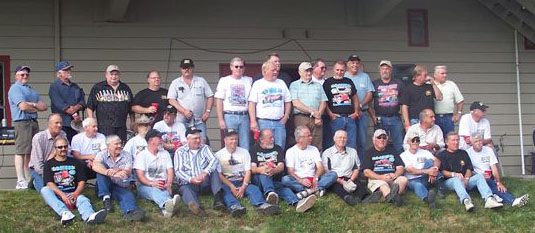 The Loafers are a Hot Rod club based out of
Langley, British Columbia, Canada.
The Loafers Hot Rod Club was founded in 1957 and has been active in motorsports throughout its history. Our present membership is comprised of thirty active and enthusiastic street rod and race car hobbyists. The members come from diverse business and career backgrounds and includes several of the original founding members.
In 1988, with the experience of many successful car shows and rallies behind us, we presented the inaugural B.C. Oldtime Drags. These two annual events now at Mission Raceway have become major Motorsport gatherings in the area, attracting thousands of spectators and participants.
The financial success of these two annual race events, with the contribution from our many sponsors and race supporters, have enabled our club to undertake a scholarship program in Langley High Schools.
Club Community Involvement
We present five $500 scholarships to Automotive Shop Career Program students, which we believe are the first such awards in B.C. The schools benefitting from this program are D.W. Poppy, Walnut Grove Secondary, Aldergrove Secondary, Brookswood Secondary, and Langley Senior Secondary. We plan to continue these programs in addition to supporting the B.C. Secondary School Motorsport Association.
We also support the High School drag racing program at Mission Raceway and North Central Motorsport Park in Prince George by furnishing all the trophies and prizes.
In addition we also support with a donation each year to the Langley Food Bank and Langley Salvation Army Gateway of Hope.